What is Sounds Unheard?
Sounds Unheard is a free music education program for Victorian secondary music students. Hosted by the internationally acclaimed new music organisation Speak Percussion, this program offers unique opportunities for young musicians and composers from all areas of music making to expand their knowledge and creativity. Since launching in 2015, Sounds Unheard has offered an annual program of music education activities that develop students' talents and inspire through innovative approaches to music making.
Sounds Unheard 2023 includes:
The Sounds Unheard Performance Program, where young musicians will experience professional music-making, explore contemporary and experimental music practice, and present a public performance.
Sounds Unheard School Holiday Workshops and Intensives, programs offering the next generation of Victorian musicians and composers the opportunity to explore musical themes and practices beyond the Victorian curriculum.
Sounds Unheard Ask the Artist sessions, taking Sounds Unheard participants behind the scenes at Speak Percussion rehearsals to gain insight into the work of professional musicians, attend question-and-answer sessions with leading creatives and visit some of Victoria's premier performance venues.
Studio Talks, a series of online videos presented by leading musicians from around the world on diverse topics requested by Sounds Unheard participants.

"A fantastic experience. Being mentored by such creative and kind people opened my mind to lots of new opportunities." – Zoe
"A wave and waves and the School Holiday Intensive broadened my definition of music and got me thinking about the kind of music I'd like to make myself." – Lewis
"An amazing and unique learning opportunity." – Angeline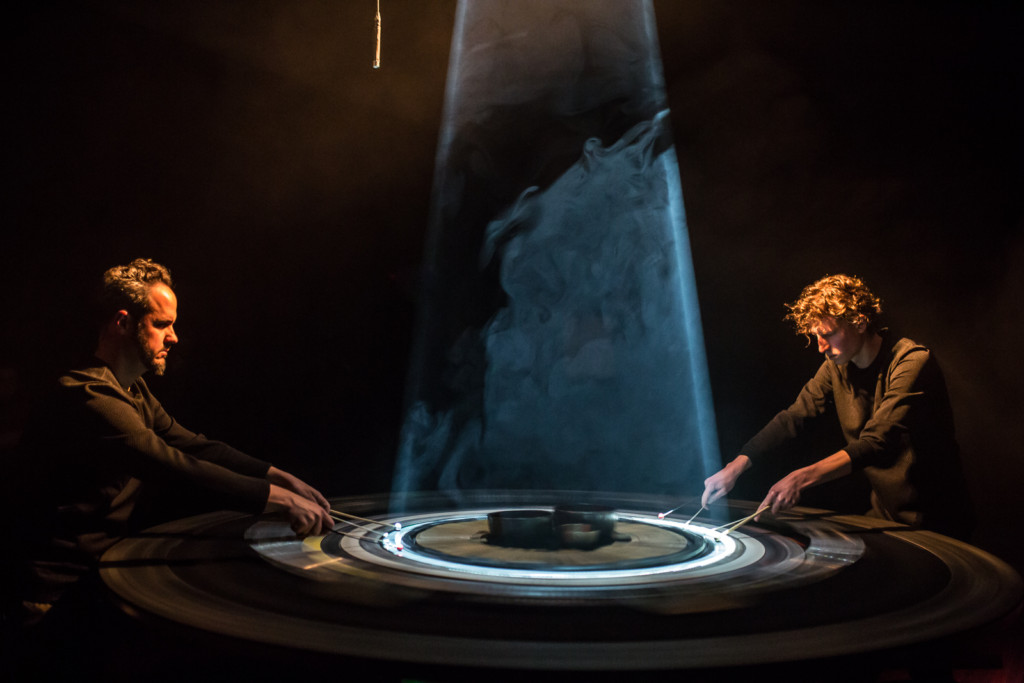 Frequently Asked Questions
What is Speak Percussion?
Speak Percussion is a contemporary art music ensemble based in Victoria and internationally recognised as a leader in the fields of experimental and contemporary classical music. Speak has defined the sound of 21st century Australian percussion music through the creation and presentation of ambitious arts projects, presented throughout the world in concert halls, theatres, galleries and site-specific locations. For more information on Speak, please visit www.speakpercussion.com.
Do I need to be a percussionist to take part in Sounds Unheard?
No! Sounds Unheard is open to any Victorian secondary school musician student. If you're a composer and/or performer interested in any kind of music – classical, rock, pop, electronic, improvised – there's an activity for you in Sounds Unheard.
When and where are Sounds Unheard activities held?
Sounds Unheard activities are held outside of school hours, with most activities taking place in the Speak Percussion Studio in Thornbury or at Darebin Arts Centre. Select activities will take place in some of Victoria's most highly recognised performance venues, with past examples including the Melbourne Recital Centre (Southbank), Arts House (North Melbourne) and Arts Centre Melbourne.
How much do Sounds Unheard activities cost?
All Sounds Unheard activities are free for all participants.
How do I apply for Sounds Unheard?
You can use our online form to apply for Sounds Unheard, or email Sounds Unheard Coordinator Kaylie Melville (kaylie@speakpercussion.com) for further information or assistance. 
Speak Percussion and Sounds Unheard acknowledge the support of the City of Darebin's Community Grants Program and the Department of Education through the Strategic Partnerships Program.
About Speak Percussion
virtuosic and adventurous 
The New York Times
Speak Percussion is a flexible line-up of Australia's finest creative percussionists that has a 23-year history of commissioning, performing and creating innovative new work. Ranging from solo concerts to massed sound events, Speak Percussion's award winning work is presented throughout the world in concert halls, bars, galleries and site-specific locations. Speak Percussion regularly collaborates with a diverse range of artists in creating unique hybrid projects, and has explored the intersection between percussion and architecture, gastronomy, installation, instrument building, astronomy and dance.