Term 1
---
School Holiday Workshops: "You're An Instrument"
Presented by Speak Percussion, Darebin Arts Centre & AirSticks
15-16 April 2023
Darebin Arts Centre
Two scientists take kids on a wild magical ride where movement becomes music, turning anything & everything into musical instruments. Yes, new technology can turn the actions of a human body, a pot-plant, or even a shampoo bottle, into any sound known to humanity. So move it!
A funny interactive all-ages family show exploring the history of sound & music, including the thoughts and feelings behind any toot, ding, dong or symphony, featuring the incredibly exciting technology of Airsticks.
For ages 5-12 years
Only participants require tickets. Guardians are free to attend and do not require a ticket.

Warnings: None
Duration: 50 Minutes
Book here: https://arts.darebin.vic.gov.au/whats-on/event-calendar/2023/04/youre-an-instrument
Complimentary tickets are available for students currently enrolled at a Victorian specialist school. For further information, please contact soundsunheard@speakpercussion.com.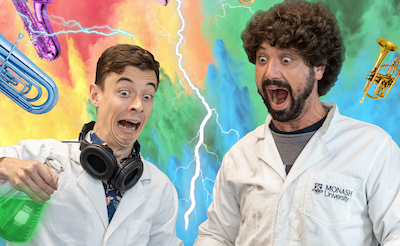 ---
Term 2
---
Sonic Eclipse Performance Program: March Static
29 April – 15 June 2023
Darebin Arts Centre / Melbourne Recital Centre
Calling all flute, clarinet, saxophone, low brass, percussion and drum players; we need you for the Melbourne premiere of March Static! Join Speak Percussion in the opening and closing works of their epic project Sonic Eclipse in this year's RISING Festival.
Composed by internationally acclaimed composer Thomas Meadowcroft (AU/DE), March Static is a stunning roaming work for massed wind/low brass and percussion/drum players, developed in collaboration with two luminary figures in new music: Eugene Ughetti (AU, percussion) and Claire Chase (US, flutes).
In this performance, a massed team of wind/low brass and percussion/drum players will overtake the foyers and Elisabeth Murdoch Hall at the Melbourne Recital Centre on Thursday June 15.
We are seeking volunteer participants who play flute, clarinet, saxophone, low brass, percussion and drums at an equivalent minimum AMEB Grade 2 standard. Music notation reading skills are required.
Participants will:

perform at RISING, an international arts festival, in the world class venue, Melbourne Recital Centre

be mentored by and perform alongside new music pioneers Speak Percussion

explore new music, choreography and performance techniques

be provided a performance T-Shirt to keep and light refreshments around rehearsal and performance periods.

have access to Artist Rush tickets from the Melbourne Recital Centre (purchase up to two tickets (for yourself and a guest) at $15 each to MRC Presented Events. Offer is available from 48 hours prior to the concert)
For further information and the full schedule, please download the Sonic Eclipse Flyer. To apply please fill out the online form here.
Applications for the Sonic Eclipse Performance Program must be received by 5pm, Wednesday 12 April 2023. For assistance with your aapplication or to request further information, please contact Biddy Connor (biddy@speakpercussion.com).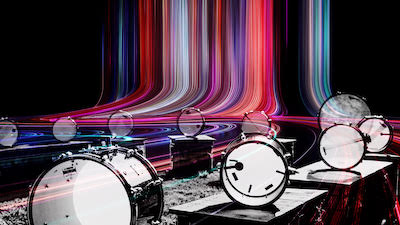 Speak Percussion (Aimee Schollum)
---