Term 2
---
Ask the Artist: James Nguyen & Amias Hanley

Students are invited to join Speak Percussion, visual artist James Nguyen and sound artist Amias Hanley on Thursday May 19 for Ask the Artist: the first in a new series of webinars on creativity, collaboration and artistic practice for Victorian secondary students.

James and Amias will talk about their fascinating individual practices (spanning live and online performance, video, drawing, installation, sound and media), and their current collaboration with Speak Percussion on Before Nightfall #15; a project that will see these artists combine forces to create a public performance in a single day.

Students will be invited to submit their own questions for the artist and to experience this performance on Saturday May 21 at Gertrude Contemporary.

This activity is free but registrations are required. Participants will be forwarded the webinar details once their registration is received. To reserve your place, please fill out the online form here.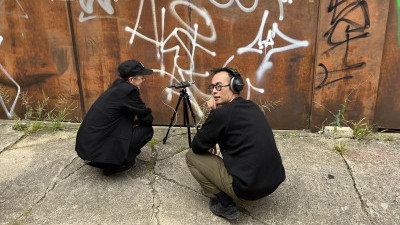 Amias Hanley and James Nguyen
School Holiday Intensive: Bell Curve
June 27-30
Darebin Arts Centre / Immigration Museum

In June, Speak Percussion will present Eugene Ughetti's Bell Curve – a sophisticated sonic choreography for Victoria's Federation Handbells – in the elegant surrounds of the Immigration Museum's Long Room.

Twelve independent bell players are installed across a large performance space and are controlled by networked wireless click tracks in a mesmerising performance. Audiences are interspersed amongst the performers, experiencing both the intimacy and complex exchange of rhythmic and spatial structures.

As the performers move seamlessly in and out of sync from stunningly complex rhythms to perfect unisons, a massed sound event unfolds across the performance space – a world revealed between the attacks and beating patterns of tuned bell resonance.

Students are invited to take part in this school holiday performance intensive with Speak Percussion.

For further information and the full schedule, please download the Bell Curve Flyer. To apply please fill out the online form here.

Applications for the Bell Curve Performance Program must be received by midnight Thursday June 23. Applications will be accepted on a rolling basis, and applying early to avoid disappointment is encouraged.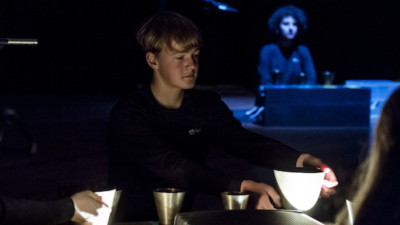 Throughout 2022
---
Studio Talks

www.soundsunheard.com/studiotalks/


Access international artists, professional experts and a wealth of musical knowledge from your home, school or practice room. These online sessions are presented by some of the world's most exciting musicians, on topics including performance preparation, approaches to composition, extended techniques and more.

Our Studio Talk presenters for 2022 will include composer Cathy van Eck and Australian artists Madeleine Flynn and Tim Humphrey, who create unexpected situations for listening.