Today our creative prompt comes from Claire Chase, an internationally-renowned American flutist and leading advocate for new music.
What we're making today
Claire's prompt is drawing on the field of 'bioacoustics' – studies into how animals (including humans) create and respond to sounds. In 2012, the research of scientists at the University of Bristol and the University of Western Australia showed that plants should be included in these studies. Using highly sensitive laser microphones, these scientists were able to pick up tiny clicking sounds from the roots of plants and discovered that they would grow towards sounds at particular frequencies.

Claire is asking us to work with these two ideas – clicking and leaning. You'll be working with two different sounds on your instrument, recording 30-60 seconds of each idea.

1. Clicking – non-pitched, percussive sounds.
2. A leaning or growing melody – one to three notes maximum.

We'll be combining these recordings into a single piece, so please leave lots of space between your sounds. This might sound quite empty when you're recording your solo part – but when we combine all of our recordings, we'll have an entire forest of sounds.

Today your responses can be in either audio or video form. Please make sure your name is in the title of your sound or video file so we know who to credit!
Claire Chase
"the most important flutist of our time"

— The New York Times
Claire Chase is a soloist, collaborative artist, curator and advocate for new and experimental music. Over the past decade she has given the world premieres of hundreds of new works for the flute in performances throughout the Americas, Europe and Asia, and she has championed new music throughout the world by building organizations, forming alliances, pioneering commissioning initiatives and supporting educational programs that reach new audiences. She was named a MacArthur Fellow in 2012, and in 2017 was awarded the Avery Fisher Prize.
In 2013 Chase launched Density 2036, a 23-year commissioning project to create an entirely new body of repertory for flute between 2014 and 2036, the centenary of Edgard Varèse's groundbreaking 1936 flute solo, Density 21.5. Each season as part of the project, Chase premieres a new program of commissioned music, with six hours of new repertory created to date. In 2036, she will play a 24-hour marathon of all of the repertory created in the project. Chase will release world premiere recordings the first four years of the Density cycle in collaboration with the producer Matias Tarnopolsky at Meyer Sound Laboratories in Berkeley, CA in September 2020.
For more on Claire, visit http://www.clairechase.net/.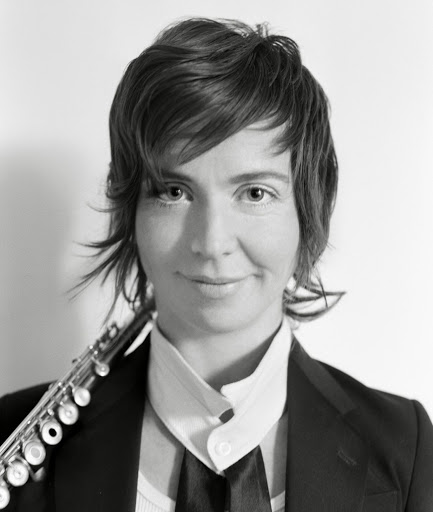 Extra Credit
A few articles on the discoveries of plant bioacoustics:

ABC News – Do plants talk to each other?
Inhabitat – Plants can 'talk' to each other by clicking their roots
Live Science – Sound Garden: Can plants actually talk and hear?

Another way of listening to plants?
In 2012, record label Data Garden created their first plant music installation for the Philadelphia Museum of Art. The musical compositions began with electronic impulses produced by four tropical plants, analysed by humans and computers and re-interpreted into sound.

You can read more about the Data Garden Quartet here, or listen to the plant quartet's album here.

If you're a podcast fan, you can also hear Joe Patitucci (one of the artists behind Data Garden) on the 'Plants That Sing' episode of Twenty Thousand Hertz, a series revealing the stories behind the world's most recognizable and interesting sounds.
Playing to plants
Plants have also been making news as audience members in 2020. After coronavirus lockdowns in Spain earlier this year, the Gran Teatro del Liceu opera house made international news when its re-opening concert featured a string quartet and an audience of 2,292 plants.
Eugenio Ampudia, the artist who suggested this concert, told The Guardian, "At a time when an important part of humankind has shut itself up in enclosed spaces and been obliged to relinquish movement, nature has crept forward to occupy the spaces we have ceded. And it has done so at its own rhythm, according to its patient biological cycle.

Can we broaden our empathy and bring it to bear on other species? Let's start by using art and music and inviting nature into a great concert hall."