Today our creative prompt comes from Megan Alice Clune, an Australian composer, musician and artist with a history of creating cutting-edge projects. We begin by taking a look at one of her most recent works, 'A Living Room'.
What we're making today
Megan's prompt is based on her recent arts residency in Tokyo, where she was thinking about ideas around comfort – as both a music-maker and as a listener.

Her prompt is to "think about something that gives you comfort. This could be an object, a person, a memory of a time in your life. Next we'll think about manifesting this into a new form of comfort – sound. Work from this place of gentleness to make something new."

A nice parallel might be to think of creating a musical equivalent of comfort food. We'll be thinking about something that makes us feel happy, nostalgic or sentimental, then trying to find sounds that capture that same feeling.

Today your response should be 1-3 minutes long, and can be in either audio or video form. Please make sure your name is in the title of your sound or video file so we know who to credit!
Megan Alice Clune
Megan Alice Clune fluidly shifts between musician, composer and artist. Primarily, her work explores both the concept and aesthetics of ambient music through sound installation, collaboration and performance.
Megan is the founding member of the Alaska Orchestra, and has presented work and undertaken residencies across Australia, Asia, Europe and North America, including the Bang on a Can Summer Music Festival (MA), Next Wave Festival, 3331 Arts Chiyoda, Performa 15 (NYC) and VividLIVE at the Sydney Opera House.
From 2012-14 she curated MUSICAL ALASKA, a series of classical, experimental and electronic music performances at Alaska Projects, and was the founder of contemporary art/music magazine and record label, World's Only.
For more on Megan, visit www.meganaliceclune.com/.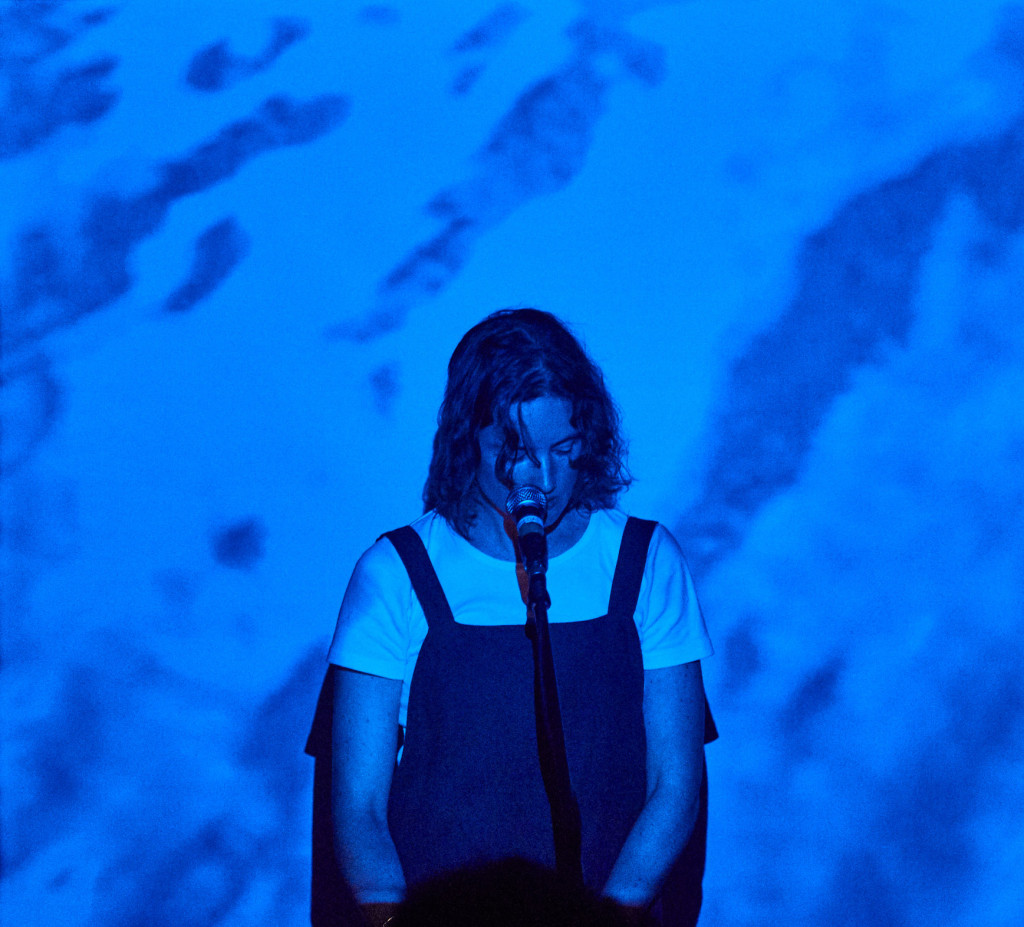 Extra Credit
"Ambient music is a genre of music that emphasizes tone and atmosphere over traditional musical structure or rhythm. A form of instrumental music, it may lack net composition, beat, or structured melody. It uses textural layers of sound which can reward both passive and active listening and encourage a sense of calm or contemplation."

— Wikipedia
Megan's work as both a musician and composer is inspired by the history of ambient music. Oxford Languages tells us ambient music is "a style of gentle, largely electronic instrumental music with no persistent beat, used to create or enhance a mood or atmosphere."

Ambient music often appears on 'study' or 'concentration' playlists. Studies have shown that listening to ambient music can improve performance and focus, reduce anxiety, and even lower a listener's blood pressure and heart rate!

Some composers, musicians and bands we associate with ambient music now are Max Richter, Julianna Barwick, Tim Hecker and William Basinski. If we go back to the beginning though, there are two musicians who are generally recognised as the pioneers of this genre – Erik Satie and Brian Eno.
Erik Satie
Erik Satie (1866 – 1925) was an influential French composer and pianist. Many people would instantly recognise his Gymnopédies pieces for piano, a series of short and melancholic works – but Satie was also a wonderfully inventive thinker who was strongly associated with the Parisian avant-garde.
In 1917, Satie created a series of works called 'Furniture Music'. These were five short works designed to be played as background music – to be heard, but not necessarily listened to. This was a completely radical change in how we thought about music and the act of listening. Until now, composers had been writing music with the expectation that people would listen with their full attention. This was the first time someone had deliberately written music that would be played in the background! This is now thought to be a pre-cursor to the idea of ambient music.
Only one of the five 'Furniture Music' pieces was ever played in Satie's lifetime, and the scores weren't published together until the 1970s. The video below shows a performance of Satie's first Furniture Piece, 'Tapisserie en fer forgé – pour l'arrivée des invités (Tapestry in forged iron – for the arrival of the guests).
You'll notice the piece is very repetitive. It's actually very short (only 4 bars long!) and can be repeated as many times as desired.
Brian Eno
Brian Eno is a musician, record producer, visual artist, and theorist who works across many musical genres – rock, pop and electronica. 'Ambient 1: Music for Airports' was his sixth album, and the first to use the term 'ambient' to describe this kind of music.
Eno came up with the idea of making 'Music for Airports' after spending time in an airport in Germany and thinking about the experience. The people in the airport were tense and frustrated, and Eno wondered if he could create music that would create a calmer atmosphere.
Eno wrote that this music would need to "accommodate many levels of listening attention without enforcing one in particular; it must be as ignorable as it is interesting."
The tracks on this album are built from loops of musical material, made from recordings of piano, synthesiser and singers. Reverb Machine has put together an excellent deconstruction of the album, including samples of the loops that you can play on the page or download to create your own 'Music for Airports' composition.
In the video below you can hear Brian Eno's original recording of 'Music for Aiports'. Further up this page, you'll also find a recording of Megan performing a live arrangement of the work at the Sydney Opera House earlier this year with Alaska Orchestra.