Today our creative prompt comes from Mohamed Camara, a highly sought-after performer, songwriter and Guinean music educator based in Melbourne.
What we're making today
Mohamed's prompt draws on Guinean culture, where music plays a pivotal role in celebrations. His instrument in this video, the djembe, features in weddings, coming of age ceremonies like the bar mitzvah, and festivals marking the seasons or the completion of the annual harvests.

Mohamed is asking us to create a piece of music that celebrates something important to you. This could be something big picture, like the ceremonies mentioned above, or something smaller and more personal. If you'd like to add an extra layer of challenge to today's prompt, consider if you could come up with a signature rhythm for your piece.

Today your response should be 1-3 minutes long, and can be in either audio or video form. Please make sure your name is in the title of your sound or video file so we know who to credit!
Mohamed Camara
Performer, songwriter and Guinean music educator, Mohamed Camara's rich Manding heritage has shaped a life-long passion and creative practice.
As a child Mohamed was apprenticed to internationally renowned Guinean master drummer Ton Ton Sylla, and he went on to perform in many of Guinea's leading drum and dance ensembles, including Ballet Bolonta, Les Sorciers de Guinée and Ballet Destin.
Based in Melbourne since 2007, Mohamed shares his Manding heritage with Australian audiences to inspire cultural awareness and exchange. Mohamed seeks musical innovation through unique collaborations with western musicians and styles, taking creative risks inspired by respectful musical exchange. These have resulted in collaborations with electronic producer Jonny Faith, jazz drummer James McLean, and Mohamed was co-writer on a track for Australian film soundtrack 'Le Champion'.
Mohamed has toured nationally with Asanti Dance Theatre and Muhanamwe, and is founding member of contemporary Guinean band Jarabi and African Cuban fusion band Ausecuma Beats. Performance highlights include Melbourne Recital Centre, Moomba Festival, Dark Mofo and Woodford Folk Festival.
For more on Mohamed, visit https://mohamedcamaramusic.com/.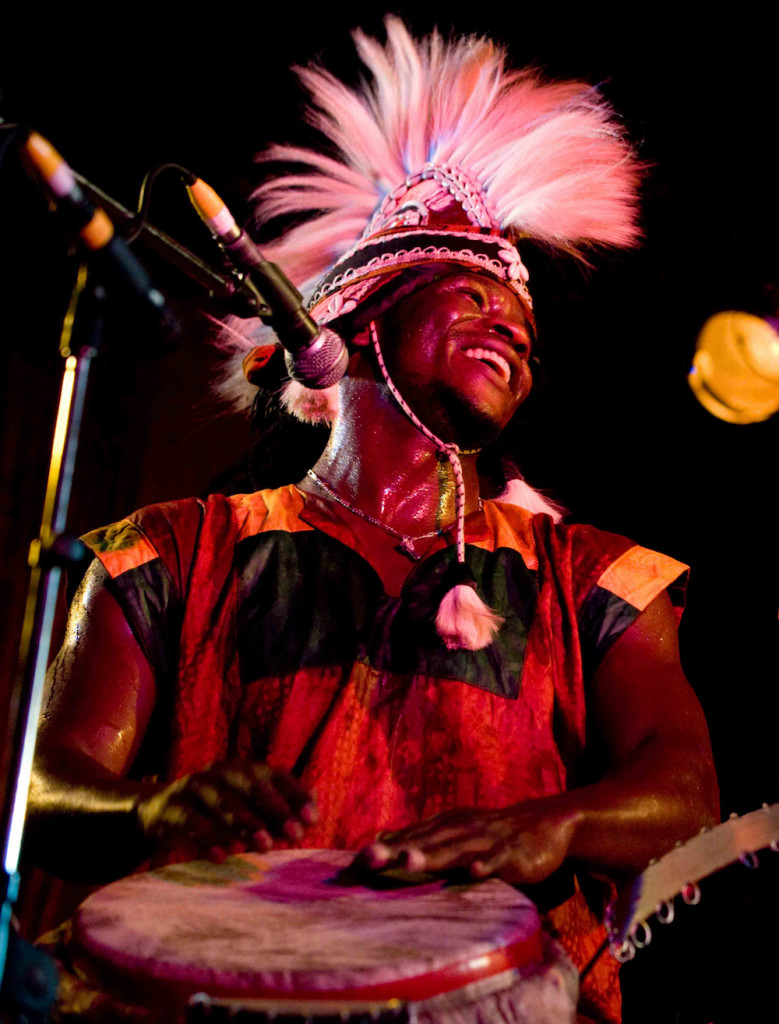 Extra Credit
"Honest observers are hard pressed to find a single indigenous group in Africa that has a term congruent with the usual Western notion of "music". There are terms for more specific acts like singing, playing instruments, and more broadly performing (dance, games, music); but the isolation of musical sound from other arts proves a Western abstraction of which we should be aware…"

The Garland Encyclopedia of Word Music
Music in Africa, particularly in celebrations, is often partnered with other art forms, such as dance. Particular rhythms and movements are associated with a whole range of ceremonies celebrating major life events in the community. These traditional songs are rarely played for audiences to sit and listen to. Instead, the crowd is encouraged to dance, sing and clap along. Below you can see a couple of examples of how this looks and sounds.

In the first video, we see Mohamed leading a traditional Dembadong dance in Guinea Conakry on djembe. This event is a celebration for the mother of the bride to be. In the second we see Mohamed performing with Rhythm of Life in Melbourne, showcasing the incredible energy of Guinean music and dance.